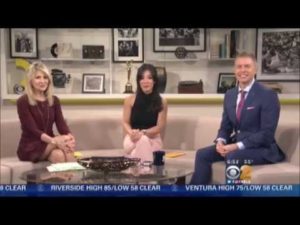 Holiday Shopping Tips Los Angeles to Keep Your Sanity and not break the bank Video CBS News. How to score holiday deals and drink wine Video CBS News
By David Rae Certified Financial Planner™, Accredited Investment Fiduciary™
Holiday Shopping Tips Los Angeles
Shopping Season is stress and YES expensive.  Shoppers are expecting to spent around $793 this holiday season.   Retailers are rolling out new pricing and trick to encourage you to spend more. With a little shopping savvy you can stretch you dollars and find the best gifts for the money.
Research Deals- 99% off may not be as good as it sounds.
Make sure you are comparing similar items.  One 55 inch plasma TV may be cheaper, but of lower quality. Pull out your phone and do a quick google search can pull up similar items at other stores.  Stores Like Best Buys and Staples offer price matching.
Budget Accordingly for your Holiday List
To avoid a bag of coal for your own gift, make sure to set a spending ceiling.  List out who you need gifts for and how much plan to spend.   $5 or $10 extra may not seem like a big deal. But do that 20 or 30 times- and all of a sudden you have racked up some serious credit card debt.  It is just too easy to get caught up in the Holiday Frenzy, or lure of huge discounts.
Spending expectations went astray last year for three in ten consumers, though most did stick to their budgets
Review Return Policies – Can people return this stuff?
If returns on certain products aren't permitted, then you may want to skip those outlets altogether.   I just got home from shopping – open up Facebook and see my niece playing with the gift I just purchased her.  Most of the time you won't get this warning, a gift receipt means my brother could return it later.
Factor in Shipping Fees – aka Look at the Total Cost
Shipping can really add up. Especially when buying bulky items like Furniture.  The deal you see posted may not be so great once you add in shipping.
Save Receipts and Order Confirmations
Many retailers now allow you to email or print your receipts in person. Do either, or both, but just be sure that you keep a record of your purchases, especially if your shopping list includes high-ticket items, because you never know when you may need to do a return or exchange.
You don't have to go to the store.
I walked to the Beverly Center to avoid the nightmare of parking. Didn't buy anything.  Personally, I prefer to shop from the comfort of my couch with a nice glass of Wine.  Who's with me?
PS a bottle of wine at home is less than a glass at the mall.
Live for Today, Plan for Tomorrow.
Los Angles Financial Planner Discussed Holiday Shopping Tips with Kara Finnstrom on Ventura Boulevard for CBS LA News.
You may also enjoy:
Are You Getting the Most Bang for Your Buck? KTLA News Video