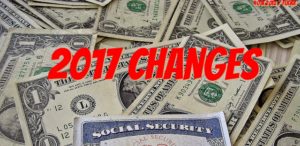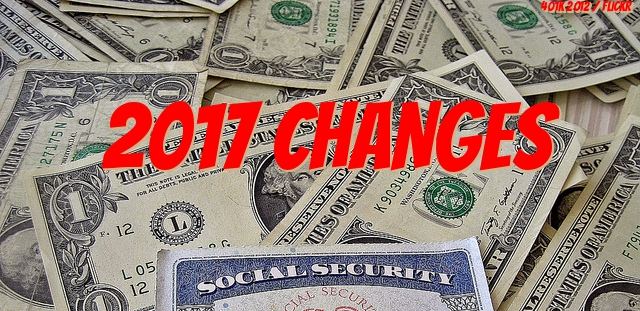 Social Security Changes to Benefits and Taxes for 2017, what you need to know now.
Whether you are already collecting Social Security benefits, still paying into the Social Security System, or eyeing retirement there are some Social Security Changes you need to know about that are here in 2017.
By David Rae Certified Financial Planner™, Accredited Investment Fiduciary™
The 60 million or so Americans receiving Social Security Benefits will see a tiny 0.3% cost of living increase in their benefits.   This is the smallest COLA since they began in 1975. (not including the three years where there wasn't any cost of living adjustments at all).   For the average worker this works out to about $5 per month.  Hardly worth mentioning.
The max Social Security Benefit for a high-income earner retiring at 66 this year will be $2687.   Could you live on that? This would barely cover rent and utilities in much of Los Angeles.
Social Security Changes and Medicare Part B Premiums:
Sadly the Cost of living increase to your Social Security Benefits will be eaten up by new higher Medicare Premiums.  Many Medicare recipients who have their premiums deducted from their monthly Social Security Benefits will pay around $109 per month which is an increase of around $4 from 2016.
New enrollees into Medicare Part B as well as those who pay premiums directly will be pay the standard premium of $134 per month in 2017.  If you are a high-income retiree your premiums will be higher.  Bet you didn't know that premiums are tied to income, this seems to be a shock for many new retirees.
If you MAGI (Modified Adjusted Gross income) in 2015 was higher than $85,000 (INCLUDING TAX FREE INTEREST!!!!) for a single person or $170,000 for a married couple you will be subject to a Medicare Surcharge in 2017.  If you are subject to this surcharge costs range from $187.50 to $428.60 per person.  This can end up being quite costly for a married couple with high income.  Talk to your Fiduciary Financial Planner for way to minimize income driving up your MAGI, to help potentially lower your Medicare premiums.
Social Security Changes and Higher Income Workers
Changes to Social Security doesn't only matter for retirees.  Higher income worker are being asked to pay more into the system for 2017.  The wages that are subject to Social Security taxes have increased by $8700 for 2017 to $127,200.  A nice salary, but hardly "RICH" for anyone raising a family or living on the coasts or other expensive parts of the country.  It is estimated that this tax increase will hit roughly 12 million workers this year with an average cost around $665.   This number doubles for self-employed people in this income range.
In the grand scheme of things this may not be life changing for you.  On the other hand the Social Security Administration estimates this small change could bring in around $11.6 BILLION in new tax revenue for 2017.
Thinking of Early Retirement make sure you know about this Social Security Change:
Dreaming of Retirement at 62? Not out of the question, but it will take some strategic financial planning to get there.
You may or not be aware but the younger you are now, the higher you FULL RETIREMENT AGE for Social Security will be.   Many people have a retirement age of 65 in their head, but for Social Security Full Retirement age currently starts at 66 and creeps up depending on when you were born.
What's the big deal on changing of your retirement age? Well if you retire early (many people retire before their full retirement age, whether they are ready financially is another conversation), you benefits are based on how far you are from that FULL RETIREMENT AGE.   So in simple terms you will suffer a larger reduction in benefits the earlier you choose to retire.
These are not earth shattering changes, but a few bucks a month compounded out over 30 or 40 years of retirement can make a big difference.  I know I've been behind people at the grocery store scrounging the last few pennies to pay for their necessities.    Make sure you are including Social Security, Medicare and Long Term Care as part of your comprehensive financial plan.  Don't be afraid to ask your trusted Fiduciary Certified Financial Planner what these change mean for you and your march towards financial independence.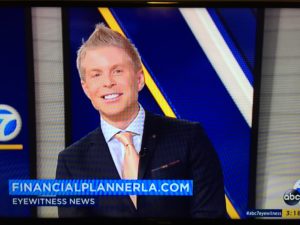 DAVID RAE, CFP®, AIF® is a Los Angeles-based fiduciary financial planner with DRM Wealth Management, a regular contributor to Advocate Magazine, Huffington Post, Investopedia not to mention numerous TV appearances.  He helps smart people across the USA get on track for their financial goals.  For more information visit his website www.davidraefp.com
You may also like this  Social Security Video:
KTLA Money Smart Financial Planner David Rae Social Security Myths