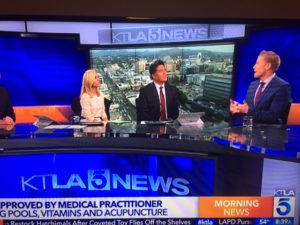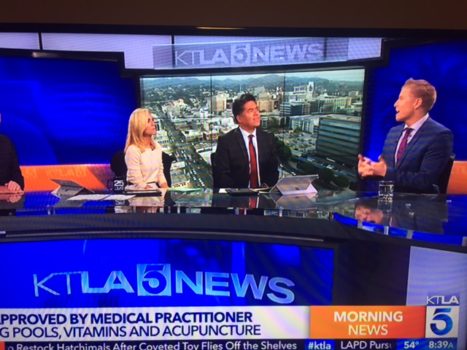 5 Unusual Tax Strategies You Can Do Now to Save on Your Taxes
By David Rae Certified Financial Planner™, Accredited Investment Fiduciary™
Unusual Tax Strategies was the topic for the December 2016 KTLA Morning News appearance by Financial Planner LA David Rae.  He was in studio with Jessica Holmes and Frank Buckley discussing how you can save money on taxes with these 5 Unusual Tax Strategies that many people miss.
The top 5 Unusual Tax Strategies discussed on this tax saving segment for KTLA include:
Unusual Tax Strategy 1: Smart Strategies to avoid the Gift Tax
Unusual Tax Strategy 2: Fostering a Pet–  would you believe expense for fostering a cute little puppy could be deductible. This goes for other charitable expenses you may incur while doing good.
Unusual Tax Strategy 3: Installing a Swimming Pool. As long as it is approved by a "medical  practitioner," the IRS allows you to deduct the costs of acupuncture, vitamins and herbal supplements and, in some cases, even a swimming pool
Unusual Tax Strategy 4: PRIVATE MORTGAGE INSURANCE:  While most taxpayers know they can deduct their mortgage interest, few know that they can also deduct their private mortgage insurance.
Unusual Tax Strategy 5: SAVING TO EARN TAX DEDUCTION AND CREDIT : Depending on your income you may be able to get an additional tax credit for contributing to retirement account. Tax credit are even better than tax deduction as they can reduce your tax bill dollar for dollar.  This unusual tax strategy may even make ROTH IRA contribution come with a tax credit.
DAVID RAE, CFP®, AIF® is a Los Angeles-based financial planner with DRM Wealth Management, a regular contributor to Advocate Magazine, Huffington Post, Investopedia not to mention numerous TV appearances.  He helps smart people across the USA get on track for their financial goals.  For more information visit his website at www.davidraefp.com
Video originally appeared Live on the KTLA news broadcast as well at the KTLA website under the title Financial Planner Shares Unusual Tax Strategies you can do now to Save on Taxes.