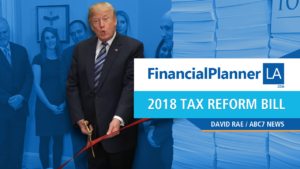 There are a slew or reason the GOP Tax Reform bill is so unpopular.  Most people think their tax bills will actually go up under the new plan, and many of them are right.   Check out this video from ABC 7 Eyewitness News Los Angeles where Tax expert David Rae is live in studio with Ellen Leyva and Jovana Lara.
By David Rae Certified Financial Planner™, Accredited Investment Fiduciary™
Who will be the hardest hit by the GOP Tax Bill Scam Los Angeles?
-Californian who itemized deduction- especially those with taxable incomes between $100,000 and $500,000
-Homeowners near the coasts or other expensive areas. By the coast I mean all of Los Angeles County.  Have you looked at what it takes to afford a home here?
-Entertainment industry employees who have unreimbursed business expenses. Think actors, reporters, other cameramen – the list goes on.
-People who buy insurance through the affordable care act.  Trump is trying to destabilize the marketplace which will likely cause premiums to increase.
Who will benefit the most from the GOP Tax Bill Scam Los Angeles?
-An estimated 80% of the benefits will end up going to the 1% by the time this plan plays out.
-Owners of Golf Courses and Private Planes. Generally also part of the 1% above.
–Self-Employed People who have an Partnership or S-Corp or LLC.
-People with Lots of Children- the child tax credit is going up.
-People who don't keep receipts of track their deductions.   The Standard deduction is nearly doubling. Don't be fooled by this math you are losing your personal exemption. So really this is only a $2200 tax deduction for a married couple.  Likely saving you between $300 and $814 depending on your income.
This tax bill is extremely complicated and convoluted.  This is not by mistakes, the more complicated the more opportunities their are to use tax loopholes to your advantage.  Sit down with your Fiduciary Financial Planner and make sure you are minimizing your tax liabilities.
Live For Today Plan For Tomorrow!
If you liked GOP Tax Bill Scam Los Angeles you may also Like: