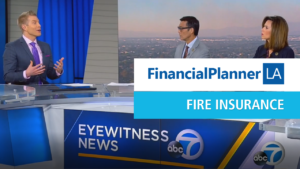 How would your finances hold up if you were the victim of a natural disaster like the California Wildfires? Financial Expert David Rae is in studio with David One and Coleen Sullivan on the ABC 7 Eyewitness News Los Angeles will tips to make sure you have the appropriate Home Owners Insurance. Protect your finances from Fires.
By David Rae Certified Financial Planner™, Accredited Investment Fiduciary™
Check out the video above on Fire Insurance to make sure you a properly covered.  A few extra nuggets of financial wisdom to make sure you finances are protected from fires.
63 percent of Americans say they're unable to handle a $500 car repair or a $1,000 emergency room bill, according to a new survey from Bankrate.com.  Fire damage will likely your cost you many times more than this- even with the best homeowners insurance.  How would you cover the deductible on your fire insurance if you were a victim of a wild fire?  Where would you go?
There are 300,000 items in the average American home (LA Times).  Remember that many insurance policies will reimburse for the current value of your stuff.  That new Iphone X that you are leasing from you cell phone carrier is now worth pennies on the dollar. I mean it is used- and hopefully by the time your house has burned down they will have come out with a better Iphone.  All kidding aside thing garage sale prices for your "stuff".   From couches to clothing to kitchenware some things you won't need to replace and other you will.  The cost can be astronomic.
To help remember what those 300,000 items cluttering up your house are pull out your smart phone and take pictures of literally everything. Scan your receipts, warranties and any documents you can't afford to lose (think living trust, birth certificates, passport info).   Finally, and most important store this information in the cloud or at least out of your home.  If your house happens to burn down- you don't want all this evidence to go up in smoke with it.
I've worked with people who been victims on natural disasters. Having appropriate Home Owners Insurance sure makes it a little bit easier to bounce back from.
Live for Today, Plan For Tomorrow. Only you can prevent financial fires.
DAVID RAE, CFP®, AIF® is a Los Angeles retirement planning expert with DRM Wealth Management.  He has been helping friends of the LGBT community reach their financial goals for over a decade.  He is a regular contributor to the Advocate Magazine, Investopedia and Huffington Post as well as the author of the Financial Planner Los Angeles Blog.  Follow him on Facebook or via his website www.davidraefp.com
If you liked Protect Finances Fires you may also like: