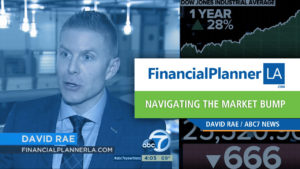 The stock market took a tumble on Monday. Setting a record for largest one day point drop in Dow Jones History.  By the time we are posting this the stock market has jump back quite a bit.  Hopefully you didn't make the mistake of selling.  Here are some tips of what to do when the markets get rough.  I'm interviewed by Miriam Hernades on the ABC 7 Evening News.
By David Rae Certified Financial Planner™, Accredited Investment Fiduciary™
A few additional things to think about when the Stock Market Tumbles.
On average, there's been a market correction every year since 1900.  A correction is a drop of 10% or more.
Just recently when the S&P 500 sank 11% in January 2016. It then made a sharp U-turn and headed for new highs.
Historically, the average correction has sent the market down 13.5% and lasted 54 days — less than two months.
The economy and stock market are not the same things
Volatility is not fun- but it is great for your investment returns over time.
As Warren Buffett has said, "The stock market is a device for transferring money from the impatient to the patient." If you lose money in the market, it's because of a decision you made — and if you make money in the market, it's because of a decision you made. The market is going to do whatever it's going to do. But you determine whether you'll win or lose.
The American economy just added 200,000 more jobs — more than expectations — and the unemployment rate now stands at 4.1%, the lowest since 2000! There's more! The average hourly earnings of American workers have risen 2.9% from a year ago – more than expected and the most since June 2009! Sell your stocks while you can!"  The economy appears to be sailing along.  There doesn't appear to be a clear reason or crisis causing this record breaking drop.
Feel free to reach out if you would like to get a second opinion on your portfolio or just make sure you are getting the very best fiduciary financial planning advice that you and your hard earned money deserve.
Live for Today, Plan for Tomorrow.
DAVID RAE, CFP®, AIF® is a Los Angeles Financial Planner with DRM Wealth Management.  He has been helping friends of the LGBT community reach their financial goals for over a decade. Nightline has called him a "Tax Wizard in an Expensive Suit"  He is a regular contributor to the Advocate Magazine, Investopedia and Huffington Post as well as the author of the Financial Planner Los Angeles Blog.  Follow him on Facebook or via his website www.davidraefp.com
If you enjoyed stock market tumbles check out this clip from January 2016 – the last time the market dropped this much:
David Rae Financial Adviser Discussed what to do if the Stock Market Drops