What If We All Paid No Taxes Like Donald Trump Nightline Video
This video originally appeared on the ABC show NIGHTLINE hosted by Dan Harris.
Trump Taxes Nightline VIDEO:
By David Rae Certified Financial Planner™, Accredited Investment Fiduciary™
This segment was filmed before the 2016 presidential election for Nightline with their fabulous reporter Nick Watt.  We discussed what would happen if we all paid zero taxes like it appears Donald Trump may have been able to do.
Before we get started, let's go over a few disclaimers.  There is no official certification as a "Tax Planning Wizard."  I can't claim to have the magic abilities of a tax planning wizard.  All the same, I appreciate the compliment from correspondent Nick Watt.  Although, I have been known to break down the complex tax code for my clients' benefit and explain it to them without their eyes glossing over.
With that out of the way, let's talk about taxes.  Paying taxes is something that every American citizen is required to do.  When the topic of him paying little to no taxes came up during one of the presidential debates, Trump responded, "That makes me smart."  His claim is based on his financial professional's ability to use the tax code, to his advantage, to write off his losses to lower his tax bill.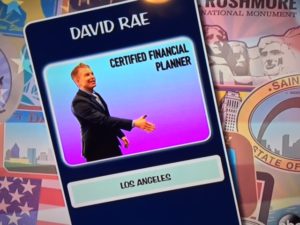 Billionaire Biggest Loser
If you are a billionaire and pay no taxes you are a big loser somewhere.  On one hand, you could be greedy and getting creative with the tax code.  On the other, you might have lost a billion dollars like Trump.  During the debates, Trump claimed this made him smart.  Did he hear the part about losing a billion dollars first?  I don't think most sane people would consider that smart.  In his defense, little of that billion-dollar loss was likely his own money.  If this in fact was the case and most of the lost money came from investors, he was able to avoid the pain of financial loss while at the same time enjoying tax benefits because of that loss.
Now let's switch gears and talk about another way you can save money.  I have to admit that I liked it when the correspondent assumed I was wearing an expensive suit.  Because Nightline is a great national show, I wanted to make sure I looked my best.  Thanks Moods of Norway!
I was wearing a thousand-dollar suit that day but if you know me, you know there is no way I spent that much money.  Even for a national tv segment, that is more than I need to spend.  Thanks to savvy shopping, I was lucky enough to get that suit during a clearance sale for 70% off. Not that $300 is some crazy cheap suit, but it was still a pretty good deal.
The bottom line is sometime tax tricks sound too good to be true.  Work with your fiduciary financial planner to choose the right options for your situation.  Minimize your taxes maximize your life.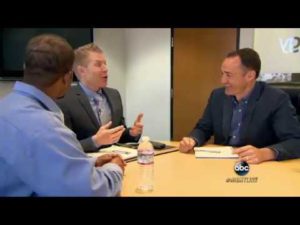 Live for Today, Plan for Tomorrow
DAVID RAE, CFP®, AIF® is a Los Angeles-based retirement planner with DRM Wealth Management.  He has been helping friends of the LGBT community reach their financial goals for over a decade.  He is a regular contributor to the Advocate Magazine, Investopedia and Huffington Post as well as the author of the Financial Planner Los Angeles Blog.  Follow him on Facebook or via his website www.davidraefp.com