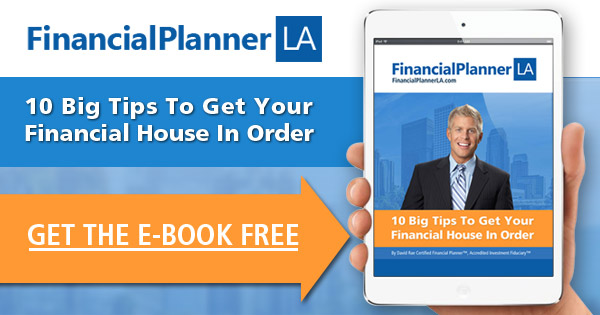 Click the link above, Enter your email to join Financial Planner LA and join the thousands of people who have downloaded their FREE copy of 10 Big Tips To Get Your Financial House In Order.
By David Rae Certified Financial Planner™, Accredited Investment Fiduciary™
Tired of feeling overwhelmed when looking at your investment statements or talking to your "financial advisor"? Getting your financial house in order shouldn't be a chore you try to avoid at any cost.  We are here to help you feel more confident about your financial future. You deserve the best financial planning advice possible.
Welcome to my David Rae Financial Planner Los Angeles site. Where you'll find a wealth of information relevant to forming a financial plan to help you reach your most important investing and financial goals. We are here to help you make smarter financial decisions along the way so you can stay on track for your personal financial and life goals. This process shouldn't be stressful or overwhelming.
We are here to help you get your financial house in order, and more importantly, keep it that way.  I strive to offer people like you an independent fiduciary financial planning experience. By having one trained professional leading your financial planning team, and coordinating all the moving parts, I believe your life will be much more enjoyable and simpler. We are here to help explain a wide variety of financial topics. We will use plain language so you understand why you are doing what is necessary to reach your specific goals.  Live for today and plan for tomorrow.